Welcome to Port Canaveral Excursions and Port Canaveral Shore Excursions in Port Canaveral Cruise Port in Florida, USA, by Shore Excursioneer!
Port Canaveral Excursions & Port Canaveral Shore Excursions in Florida- Home Port and Port of Call!

Port Canaveral, also referred to as "Cape Canaveral" and located in the state of Florida, is one of the busiest cruise ports in the world and also one of the high traffic cargo port of the United States of America. Cruise ship traffic started in Port Canaveral in 1964 and to this day, Port Canaveral serves as home port for many international cruise lines (such as Carnival, Disney, Norwegian and Royal Caribbean International to name a few), mostly for Caribbean Cruises and US East Coast Cruise itineraries.

Whether you are visiting Port Canaveral prior to taking your cruise or as a port of call, there are several interesting Port Canaveral Excursions and attractions to visit around the area such as the Universal Studios, Airboat excursions to Florida's famous everglades, the Kennedy Space Center and of course surfing, just to name a few.

Check out our Port Canaveral Surfing Lessons Excursion, which is the first of many more activities and cruise excursions to come in Port Canaveral Cruise Port, just as our valued clients asked for.

Enjoy Port Canaveral and have a look at our other cruise ports of call where we offer shore excursions and of course, Happy Cruising!

This is why you should book your Port Canaveral Cruise Excursions with us Shore Excursioneer:
FACT 1: You have reached our Port Canaveral Shore Excursions and Tours site because you will be visiting Port Canaveral on a cruise or maybe staying there on vacation AND you are looking for fun things to do ... at a great price.
FACT 2: There are many options for Port Canaveral Cruise Excursions and Tours. See below why Shore Excursioneer is your best partner for shore excursions and tours in Port Canaveral and all our other Cruise Ports.
Value & Benefits Comparison Chart - Port Canaveral Cruise Excursions:

Cruise Line
Competitor
Others
Deposit or Full Payment Options (IF APL)
Back to the Ship Guarantee
Discounts and Coupon Savings Offered
No Fee for Last Minute Booking/Changes
Enjoy booking your Port Canaveral Excursions and Port Canaveral Shore Excursions with Shore Excursioneer, the most recommended Shore Excursions Specialists for Excursions in Port Canaveral!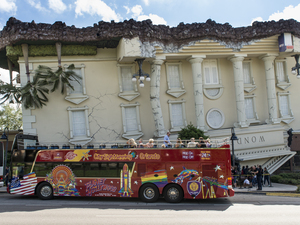 Hop On/Hop Off privilege options from 1 day up to 2 weeks on/off bus sightseeing privileges (see price chart)!
Air-conditioned buses with Wi-Fi and Wheelchair access!
Easy to use Orlando Sightseeing Excursion map!
On-board, local Orlando guide!
Coupon book for discounts and other savings at select stores, restaurants, and attractions!
Port Canaveral Hop On Hop Off Bus Sightseeing in Orlando Excursion

(S3159)
The double decker bus allows you to hop off at the stop and sites you want, and hop back on the next bus, they run all day. 5 different duration options to choose from! See Orlando the fun way!

Port Canaveral Excursions ID: S3159
Port of call: Port Canaveral, Florida / USA
Duration: At leisure
From USD

$2799
Reg Price:

USD $35.00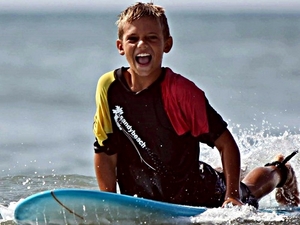 Round trip transportation from outside the Port Canaveral cruise ship terminal!
Learn how to surf at Port Canaveral's Cocoa Beach from a professional!
Personalized service, only 5 students per surfing instructor!
Port Canaveral Surfing Lessons Excursion

(S1722)
Enjoy a surf lesson for our pro instructors at Cocoa Beach, one of the top surfing spots in the world!. Learn the basics, hang ten and catch some Florida waves!

Port Canaveral Excursions ID: S1722
Port of call: Port Canaveral, Florida / USA
Duration: 3 hours
From USD

$8999
Reg Price:

USD $130.00

Port Canaveral Cruise Excursions Reviews










1
reviews