1 Amber Cove Extreme Excursions
Amber Cove Extreme Excursions & Extreme Cruise Shore Excursions in Amber Cove - Enjoy our selected list of Extreme Excursions in Amber Cove while in Amber Cove cruise port by Shore Excursioneer, the leading independent Cruise Shore Excursion Expert Worldwide!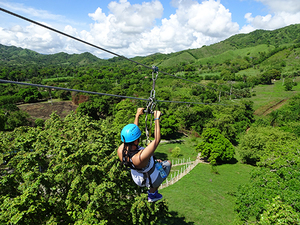 Amber Cove VIP Day Pass 4 in 1 Adventure Park with Lunch Excursion

Enjoy your day in Amber Cove's most amazing Adventure Park. You'll have access to all the activities - ATV, Ziplines, Horseback Riding, and Pool-Zip N'Splash. The park also has a tropical garden and a pool. A delicious Dominican Buffet lunch is included. 4 options at 1 price!
Cancel any time for a full refund
Activity Level:
Active
Minimum Age:
3 Years Old
Excursion ID: S3705
Duration: 5 hours 30 min
Languages: EN