Welcome to Bergen Excursions and Shore Excursions for your Bergen Cruise
Are you headed to Bergen on a cruise or vacation and want to save money on quality excursions in Bergen? Then check out our interesting and fun activities and Bergen Shore Excursions. Get out and see the beauty of Bergen and its amazing beauty.

Bergen is on the southwestern coast of Norway and is the 2nd largest city in the country. The city is located on a peninsula and is surrounded by the famed 7 Mountains.

Guests arriving into Bergen will be treated to some outstanding nature sightseeing excursions. Cruise ships arrive only in the summer months when the weather is at its best. The average temperature is 66.4F (19.1C) making it quite pleasant to be on outdoors shore excursions. Bergen is known for the mountains and fjords surrounding it. A fjord is a deep, narrow and elongated sea with steep terrain on 3 sides. The name Bergen means literally "meadow between the mountains" and the longest and deepest fjord in Norway, Sognefjord is located in Bergen.
Begen was founded by King Olav Kyrre in 1070 although it was recorded as a trading post as early as 1020. Along with its colorful history comes the colorful wooden houses that still dot the harbor. The Hanseatic Wharf and its wooden houses earned a UNESCO World Heritage Site award. Bergen also offers guests both trams and trolleys to get to some of the sites.

The Floibanen Funicular is a tram that goes up the side of Floyen Mountain that rewards guests with breath-taking views where they can explore some great hiking trails. For another perspective up in the air, try the Mt. Ulriken cable car that will take guests up the highest of the 7 mountains. Visitors can get out and explore the Famlehaugen Castle as well as the Stolzekleiven walking area.

But not all of the fun is outdoors. Begen offers several highlights including St. Marys Church, the Bergen Railway Station, and the stock exchange Begen Bors. For those who are into the arts you can see several works of street art including from artist "Dolk", and many museums (KODE, Leprosy, and Det Haneatiske). Enjoy our Bergen excursions and shore excursions on your Norway cruise to Bergen!
Value & Benefits Comparison Chart - Bergen Cruise Excursions:

Cruise Line
Competitor
Others
Deposit or Full Payment Options (IF APL)
Back to the Ship Guarantee
Discounts and Coupon Savings Offered
No Fee for Last Minute Booking/Changes
Enjoy booking your Bergen Excursions and Bergen Shore Excursions with Shore Excursioneer, the most recommended Shore Excursions Specialists for Excursions in Bergen!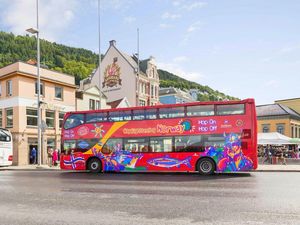 Round-trip route with on/off privileges in Bergen City!
Comfortable double decker open top city shore excursion buses!
Air-conditioned buses with WiFi and wheelchair access!
Easy to use system map of the Bergen City!
Audio narration on the bus available in 8 languages!
A total of 13 Bus stops at the must-see sites!
Coupon book for discounts and other savings at select stores, restaurants, and attractions!
Bergen Hop On Hop Off City Sightseeing Bus Excursion

(S3194)
Berge Hop-on Hop-off excursion is the best! With the double-decker buses, you will get to see the highlights of this beautiful city, and hop-off at some of the most popular attractions.

Bergen Excursions ID: S3194
Port of call: Bergen, Norway
Duration: At leisure
USD

$3944
Reg Price:

USD $45.00

Bergen Cruise Excursions Reviews










1
reviews