Welcome to Geiranger Excursions and Shore Excursions on your Geiranger Cruise by Shore Excursioneer
Located in Western Norway, the small village of Geiranger offer some stunning scenery and only 250 permanent residents. Tiny in size and huge in views, just check out our Geiranger excursions and cruise shore excursions!
Winter brings visitors looking for snow activities and other Geiranger excursions. The summer months bring cruise ships when the climate is at its best with an average temperature of 68F (20C). The name literally means "field on a mountain" in Norse and it is easy to see how it got its name. Outdoor Geiranger shore excursions are numerous with maybe the most famous being the waterfalls - 7 Sisters Waterfalls, the Suitor, and Bridal Veil. Hiking shore excursions to the falls are popular.

There are several old working farms with spectacular views - Knivsfla and Skagefla are 2 of the best known. Get out and explore one of our Geiranger Shore Excursions. One of the most famous photo spots is Geirangerfjord located high at the end of the fjord above the city with a view of your cruise ship in the water below. A drive up to Geiranger Skywalk on Mt. Dalnibba involves several hairpin turns but the views are hard to beat. Guests are also rewarded with more amazing views from atop Flydalsjuvet and Ornesvingen.

There are many spots that visitors and cruise ship passengers can get out, stretch their legs and enjoy a nice hike on one of the many trails.

The one thing you will not want to forget to pack is your camera! Get out and enjoy our Geiranger shore excursions.
Value & Benefits Comparison Chart - Geiranger Cruise Excursions:

Cruise Line
Competitor
Others
Deposit or Full Payment Options (IF APL)
Back to the Ship Guarantee
Discounts and Coupon Savings Offered
No Fee for Last Minute Booking/Changes
Enjoy booking your Geiranger Excursions and Geiranger Shore Excursions with Shore Excursioneer, the most recommended Shore Excursions Specialists for Excursions in Geiranger!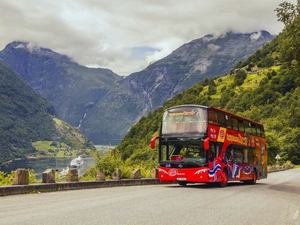 Round-trip route with on/off privileges in Geiranger City!
Comfortable double decker open top city shore excursion buses!
Air-conditioned buses with WiFi and wheelchair access!
Easy to use system map of the Geiranger City!
Audio narration on the bus available in 8 languages!
A total of 4 Bus stops at the must-see sites!
Coupon book for discounts and other savings at select stores, restaurants, and attractions!
Geiranger Hop On Hop Off City Sightseeing Bus Excursion

(S3203)
Explore the wonders of Geiranger from the open sightseeing bus. See why Geiranger is "The Jewel of the Norwegian Fjords". Safe, easy and convenient, this Geiranger hop on, hop off Excursion has it all.

Geiranger Excursions ID: S3203
Port of call: Geiranger, Norway
Duration: At leisure
USD

$3944
Reg Price:

USD $43.00

Geiranger Cruise Excursions Reviews










1
reviews