Welcome to Oslo Excursions and Shore Excursions in Oslo by Shore Excursioneer
If you are traveling on a cruise to Oslo, you are in for a treat. This is a city where old meets new; history versus modern design. Whether you are coming on vacation or arriving on a cruise ship, there is much to see and do. Check out our Oslo shore excursions!

Oslo is located on the southern coast at the mouth of Oslofjord and with the average summer temperatures at 77F (25C), it is quite pleasant to get out and explore the wonderful capital city of Norway. It is top ranked in the world for the quality of life. Oslo was founded in 1040 and was originally a trading post. The city now is recognized as a hub for banking, industry, trade, and shipping. It is full of history and offers visitors a modern variety of sites and attractions on our Oslo excursions.

The city is known for its green spaces and variety of museums. The choices of parks are numerous with something for just about everyone - Vigeland is a free park with 212 sculptures by artist Gustav Vigeland. Frogner, Bygdoy, Ekebergparken Sculpture Park, and Toyen Park with its botanical gardens just to name a few.

If you are more into museums then you will not be disappointed with the variety. Folkmuseet has displays of Norwegian folk art. There are the Norwegian Maritime Museum and the Viking Ship Museum that has 3 actual Viking ships on display from the 9th century. There is also the Munch Museum dedicated to the works of Robert Munch such as the Scream.

Oslo has a modern cityscape and one of the best known is the Barcode Project, a row of multi-purpose varying height buildings that have uniquely arranged windows that resemble barcodes on products. When out and about in the city and surrounding area check out Holmenkolbakken, a ski jump hill that overlooks the fjord. History buffs will enjoy the Royal Palace, the Parliment building and the Hovedoya Abbey that dates back to 1174 and still has some nice remains. On the modern flip side, the Oslo Opera House if the polar opposite in style to the Akershus fortress - both unique examples of Oslo.

Get out, explore and enjoy Oslo on our excursions and shore excursions in Oslo, Norway!



Value & Benefits Comparison Chart - Oslo Cruise Excursions:

Cruise Line
Competitor
Others
Deposit or Full Payment Options (IF APL)
Back to the Ship Guarantee
Discounts and Coupon Savings Offered
No Fee for Last Minute Booking/Changes
Enjoy booking your Oslo Excursions and Oslo Shore Excursions with Shore Excursioneer, the most recommended Shore Excursions Specialists for Excursions in Oslo!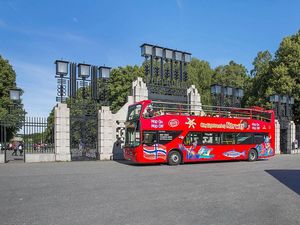 Round-trip route with on/off privileges in Oslo!
Comfortable double decker open top city shore excursion buses!
Air-conditioned buses with WiFi and wheelchair access!
Easy to use system map of Oslo!
Audio narration on the bus available in 8 languages!
A total of 18 Bus stops at the must-see sites!
Coupon book for discounts and other savings at select stores, restaurants, and attractions!
Oslo Hop On Hop Off City Sightseeing Bus Excursion

(S3197)
This Oslo Excursion is an easy-going adventure where you can experience this historic and modern city. Spot your favourite location from the double-decker bus with an exclusive panoramic view and just hop-off to explore further!

Oslo Excursions ID: S3197
Port of call: Oslo, Norway
Duration: At leisure
USD

$4582
Reg Price:

USD $52.00

Oslo Cruise Excursions Reviews










1
reviews