Welcome to Stavanger Shore Excursions in Stavanger Cruise Port by Shore Excursioneer
With so much to see and do in the small town and cruise ship port of Stavanger, you will want to get an early start and see it all on one of our Stavanger shore excursions. From outdoor natural beauty to museum to interesting attractions, enjoy your stay in- or cruise to Stavanger.

Located on the southwestern coast of Norway, Stavanger is unique in having mountains, fjords and a lot of flat coastal beach and marshes. The climate is mild but occasionally windy. The summer visitor season is quite pleasant with average temperatures ranging form 63 to 66 F (17 to 19C) and the sunniest months are May to July. Stavanger has become one of the most popular ports of call from cruise ships calling into Norway and for Stavanger excursions!

The city is a mix of old and new. Dating back to the 9th century, the port started off as a cannery and flourished in sea trade. It has a rich history that includes its place as the Oil Capital of Norway when enormous oil deposits were discovered off shore in the North Sea in 1969. As you venture around the city, you will see many parks and green spaces as well as numerous inland lakes and narrow streets downtown.

The Old Stavanger section of the city is next to the city center and is full of 18th and 19th century buildings. Stavanger Cathedral is located in the city center. Visitors can enjoy some of the many museums including Rogaland Art that has the largest collection of work by artist Lars Hertervig. Stavanger 1877 is a collection of 8 buildings holding museums including a children's museum. Another fascinating stop is the Norwegian Petroleum Museum which details the oil industry with submersibles, drill bits and escape chutes used in the large offshore platforms.

But the real beauty lies with what nature provided. The best views of thh fjords and surrounding mountains can be found at 2 very unusual rock formations. The Kjeragbolten is an enormous rock wedged between 2 cliffs almost a mile above the fjord (1,000 meters). This is a popular location for base jumpers. They are people who parachute off objects rather than out of a plane. The other outstanding scenic spot is the Preikestolen or Pulpit Rock. It is a massive rock overhanging the fjord almost 2,000 feet below (604 meters). For those who dare, the view cannot be beat! Even for those not so daring, do not forget your camera.

Enjoy our Stavanger shore excursions!
This is why you should book your Stavanger Cruise Excursions with us Shore Excursioneer:
FACT 1: You have reached our Stavanger Shore Excursions and Tours site because you will be visiting Stavanger on a cruise or maybe staying there on vacation AND you are looking for fun things to do ... at a great price.
FACT 2: There are many options for Stavanger Cruise Excursions and Tours. See below why Shore Excursioneer is your best partner for shore excursions and tours in Stavanger and all our other Cruise Ports.
Value & Benefits Comparison Chart - Stavanger Cruise Excursions:

Cruise Line
Competitor
Others
Deposit or Full Payment Options (IF APL)
Back to the Ship Guarantee
Discounts and Coupon Savings Offered
No Fee for Last Minute Booking/Changes
Enjoy booking your Stavanger Excursions and Stavanger Shore Excursions with Shore Excursioneer, the most recommended Shore Excursions Specialists for Excursions in Stavanger!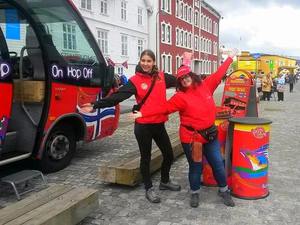 Round route on Stavanger City with on/off privileges for 24 hours!
Comfortable open top city shore excursion buses!
Air-conditioned buses with WiFi access!
Easy to use system map of the Stavanger!
Audio narration on the bus available in 8 languages!
A total of 10 Bus stops at the must-see sites!
Coupon book for discounts and other savings at select stores, restaurants, and attractions!
Stavanger Hop On Hop Off City Sightseeing Bus Excursion

(S3196)
Get the most out of your stop in Stavanger onboard the sightseeing bus! Hop off where you want to explore, then hop back on.

Stavanger Shore Excursions ID: S3196
Port of call: Stavanger, Norway
Duration: At leisure
USD

$3503
Reg Price:

USD $39.99

Stavanger Cruise Excursions Reviews










1
reviews