Welcome to Belfast Shore Excursions and Belfast Excursions by Shore Excursioneer
Belfast has many things to see on our Belfast Shore Excursions and do whether you are arriving on a cruise ship or vacationing in a hotel. It has a rich history full of political conflict, castles and the Titanic.

Belfast is the capital and largest city in Northern Ireland. It is located at the mouth of the Logan River making it a popular port for fishing and ship building.

The city is rather young only being established in 1888 but the area was occupied since the Bronze Age dating back to between 3200 and 600 BC. Belfast history also is known as being the hotspot in the 1970's as part of the "Troubles" political uprising. But those days and conflicts are long gone and resolved.

Another famous detail about Belfast is it was the location where the Titanic was built. The Harland and Wolff Shipyard is still in operation with its famous, mammoth cranes - Sampson and Goliath.

Numerous castles dot the area including the interesting Carrickfergus Castle and the Grey Castle. The landscape is quaint and takes you back in history. Check out our Belfast Excursions for options!

For those looking for a unique souvenir, Belfast is world known for the Irish Linen produced in the city. A stop along the Golden Mile offers the bests shops, restaurants and bars.

A day in Belfast would not be complete without a visit to the Titanic Belfast, an ironclad museum that resembles the stern of a ship. The Giant's Ring is a 5,000-year-old hinge is also interesting as is the relic of the Hillforts from the Iron Age.

The city is laid on in several Quarters such as the Cathedral Quarter where you can find St. Anne's Cathedral, or the Queen's Quarter with the Queen University, Botanic Gardens and Ulster Museum.

Enjoy your day on one of our Belfast Shore Excursions and do not forget your camera!
This is why you should book your Belfast Cruise Excursions with us Shore Excursioneer:
FACT 1: You have reached our Belfast Shore Excursions and Tours site because you will be visiting Belfast on a cruise or maybe staying there on vacation AND you are looking for fun things to do ... at a great price.
FACT 2: There are many options for Belfast Cruise Excursions and Tours. See below why Shore Excursioneer is your best partner for shore excursions and tours in Belfast and all our other Cruise Ports.
Value & Benefits Comparison Chart - Belfast Cruise Excursions:

Cruise Line
Competitor
Others
Deposit or Full Payment Options (IF APL)
Back to the Ship Guarantee
Discounts and Coupon Savings Offered
No Fee for Last Minute Booking/Changes
Enjoy booking your Belfast Excursions and Belfast Shore Excursions with Shore Excursioneer, the most recommended Shore Excursions Specialists for Excursions in Belfast!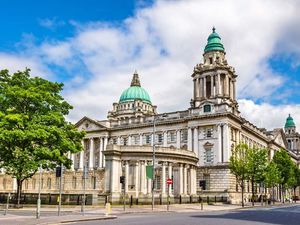 Round route on Belfast City with on/off privileges for 48 hours!
Comfortable double decker open top city shore excursion buses!
Air-conditioned buses with wheelchair access!
Easy to use system map of the Belfast City!
Audio narration on the bus available in 6 languages!
Redline runs year round with 23 Bus stops at the must-see sites!
Green line runs during Summertime with 5 extra stops!
Coupon book for discounts and other savings at select stores, restaurants, and attractions!
Belfast Hop On Hop Off City Sightseeing Bus Excursion

(S3201)
On this amazing excursion, you will see the best of Belfast from atop of the double-decker bus. Enjoy the view and whenever you spot something you would like to explore further, just hop-off! Soak up the local atmosphere at an Irish pub, check-out the world-wide famous Belfast's political murals from our double-deckers, or get cultural at the Spectrum Centre. Explore Belfast at your own pace!

Belfast Shore Excursions ID: S3201
Port of call: Belfast, Northern Ireland
Duration: At leisure
USD

$1525
Reg Price:

USD $20.99

Belfast Cruise Excursions Reviews










1
reviews