Welcome to Alesund Excursions and Shore Excursions in Alesund by Shore Excursioneer
Drenched in charm and history, Alesund is a town and cruise port of call located on the west coast of Norway at the entrance of Geirangerfjord. Get out and explore the beauty of Alesund on one of our Alesund Excursions and Shore Excursions!

Whether you are fortunate enough to stop in this picturesque port on a cruise ship or visiting on holiday, visitors should experience some incredible works of nature in and around Alesund. With very mild temperatures (a summer average of 60F (15.5C) in the summer tourist season, your visit will be quite pleasant.

Alesund is actually situated on 7 small islands with some accessible by roads and bridges and one by boat only. Residents are primarily on one island with other businesses and industry on the other islands. Being that all the buildings were made of wood originally, Alesund, like many other Scandinavian towns were prone to fire. After a devastating fire that destroyed over 90% of the buildings in 1904, they rebuilt everything in a unique art nouveau architectural style. This combined with the amazing natural beauty brings visitors annually to admire Alesund.

The city dates back to the 10th century with the birthplace of Viking Rolo, the 1st Duke of Normandy. Alesund started as a fishing village and shipyard; along with tourism, are still the main staples of the industry.

There is much to get out and see in Alesund and the surrounding areas, especially in our Alesund excursions. A good start is the Jugendstillsenteret museum offers a good presentation of the city history and area facts. Sunnmore also has an open-air museum that many islands hop over to see. But the real attractions are what Mother Nature built. A hike excursion to Sukkertoppen (Sugar Top) Mountain rewards some of the best views over the city as does Fjellstua Viewpoint. Adventurous folks can take the 418 steps down into the city center. Another popular vista is from Mt. Aksla that gives epic views over the fjord and the city. The Alnes Lighthouse on Godoy Island draws photo buffs as well as the picturesque island of Giske where you can see farms with grazing cows - the birthplace of Viking Rolo.

One of the number 1 things to remember when traveling to Alesund is to not forget your camera on our Alesund excursions and shore excursions!
Value & Benefits Comparison Chart - Alesund Cruise Excursions:

Cruise Line
Competitor
Others
Deposit or Full Payment Options (IF APL)
Back to the Ship Guarantee
Discounts and Coupon Savings Offered
No Fee for Last Minute Booking/Changes
Enjoy booking your Alesund Excursions and Alesund Shore Excursions with Shore Excursioneer, the most recommended Shore Excursions Specialists for Excursions in Alesund!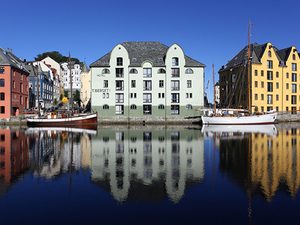 Bilingual English/Norwegian speaking professional excursion guide!
Discover the Old Town of Alesund!
Fully narrated, walking excursion!
Walk along Skateflukaia, Kongens Gate, St. Olavplass Kipervikstorget Marketplace and many more!
Small groups of 20 guests maximum!
Alesund City Highlights Walking Excursion

(S3543)
Enjoy this 2-hour Walking Excursion in the beautiful Alesund known for its Art Nouveau architecture. You will feel that you are on a fairytale! You will also learn about the history of the city from a local guide. Enjoy!

Alesund Excursions ID: S3543
Port of call: Alesund, Norway
Duration: 2 hours
USD

$3799
Reg Price:

USD $42.00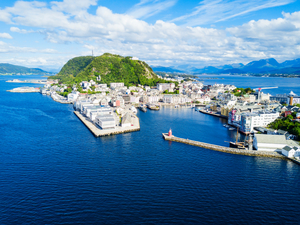 Round-trip route with on/off privileges in Alesund!
Comfortable double decker open top city shore excursion buses!
Climate-controlled buses with WiFi and wheelchair access!
Easy to use system map of the Alesund City!
Audio narration on the bus available in 8 languages!
A total of 8 Bus stops at the must-see sites!
Coupon book for discounts and other savings at select stores, restaurants, and attractions!
Alesund Hop On Hop Off City Sightseeing Bus Excursion

(S3202)
The best Alesund excursion to see it all - on the double-decker bus. See the best viewpoints, architectural landmarks, and the city's cultural and historic points.

Alesund Excursions ID: S3202
Port of call: Alesund, Norway
Duration: At leisure
USD

$3944
Reg Price:

USD $43.00

Alesund Cruise Excursions Reviews










4
reviews