1 Costa Maya Submarine Excursions
Costa Maya Submarine Excursions & Submarine Cruise Shore Excursions in Costa Maya - Enjoy our selected list of Submarine Excursions in Costa Maya while in Costa Maya cruise port by Shore Excursioneer, the leading independent Cruise Shore Excursion Expert Worldwide!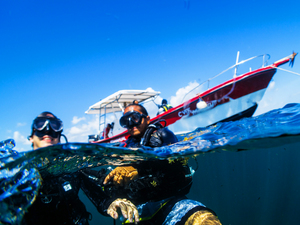 Costa Maya 1 or 2 Tank SCUBA Diving Excursion with Equipment

Convenient meeting location, the closest to the Costa Maya cruise ship terminal!
English-speaking certified PADI and SSI shore excursion divemasters and instructors!
All necessary dive gear is included!
Use beach club facilities afterward (Day pass add-on required)!
Observers may wait for you at no extra charge at the beach club!
This is the perfect opportunity to explore the Mesoamerican barrier reef, the second largest in the world. See amazing coral formations, tropical fish, and other interesting species! Diving equipment included!
Full refund for cancellations 24+ hours in advance.
Activity Level:
Moderate
Minimum Age: 10 Years Old
Excursion ID: S6179
Duration:
At leisure
Languages: EN | ES