3 Cozumel Submarine Excursions
Cozumel Submarine Excursions & Submarine Cruise Shore Excursions in Cozumel - Enjoy our selected list of Submarine Excursions in Cozumel while in Cozumel cruise port by Shore Excursioneer, the leading independent Cruise Shore Excursion Expert Worldwide!

Cozumel Mini Submarine Underwater Scooter Excursion S1136

EARLY RESERVATION strongly recommended, especially for groups!
English speaking certified guides!
All necessary instructions and mini-submarine equipment included!
Rated No.1 Underwater Adventure in Cozumel!
Add the Hotel Cozumel and Resort All Inclusive Day Pass!
Anyone in your group may come along and watch from shore at no charge!
A unique personal Mini Submarine Cruise Excursion in Cozumel! Drive your own underwater submarine scooter and explore Cozumel under the water! No snorkel or diving experience needed! Great adventure for the entire family or group!
Activity Level: Moderate
Minimum Age: 12 Years Old
Duration:
1 hours 15 min
Languages: EN | ES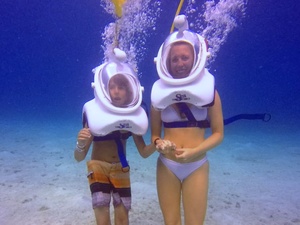 Cozumel Sea Trek Helmet Dive at Chankanaab Excursion Excursion S3632

See some of the best underwater marine life in Cozumel!
All instruction and Sea trek diving equipment provided!
Full access to Chankanaab public facilities including swimming pool, hammocks, chairs and more!
Reduced entrance fee!
Unlimited use of snorkel equipment!
No dive experience needed!
Your head stays dry inside the Sea Trek diving helmet!
Explore the underwater world of Chankanaab marine park on this fun Sea Trek Helmet Dive excursion. Walk underwater! Safe, fun and easy for everyone.
Activity Level: Active
Minimum Age: 8 Years Old
Duration:
1 hours 30 min
Languages: EN | ES
Cozumel Atlantis Submarine Excursion S1175

Convenient meeting location from your Cozumel cruise ship terminal!
English speaking certified submarine Captain and guides!
Complimentary rum or fruit punch!
Safe and easy way to see the underwater marine life!
The only real submarine cruise excursion in Cozumel!
One of the Top Rated Cozumel Excursions. See the coral reefs at more than 30ft below the surface. View safely from the submarine in comfort.
Activity Level: Low
Minimum Age: 4 Years Old
Duration:
1 hours 45 min
Languages: EN | ES