1 Curacao Interactive Excursions
Curacao Interactive Excursions & Interactive Cruise Shore Excursions in Curacao - Enjoy our selected list of Interactive Excursions in Curacao while in Curacao cruise port by Shore Excursioneer, the leading independent Cruise Shore Excursion Expert Worldwide!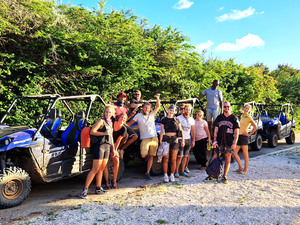 Curacao East Buggy Adventure Excursion

Complimentary bottled water and soft drinks!
All necessary buggy safety equipment including dust protection glasses and bandanas!
English-speaking shore excursion guide!
Guided driving is available!
Light snack included (Granola bar)!
Beach stop!
If you're looking for fun and adventure, then this Curacao buggy excursion is for you! Go over steep climbs and drops, high-speed bush trails, a secluded beach, and much more!
Full refund for cancellations 24+ hours in advance.
Activity Level:
Active
Minimum Age:
All Ages
Excursion ID: S6241
Duration: 3 hours
Languages: EN