2 Curacao Sailing Excursions
Curacao Sailing Excursions & Sailing Cruise Shore Excursions in Curacao - Enjoy our selected list of Sailing Excursions in Curacao while in Curacao cruise port by Shore Excursioneer, the leading independent Cruise Shore Excursion Expert Worldwide!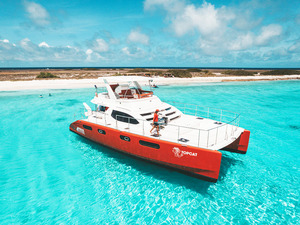 Curacao Private Power Catamaran Charter Excursion - Half or Full-Day

English-speaking private catamaran shore excursion guides!
Marine toilette on board the catamaran boat!
An all-inclusive package is available upon request!
Unlimited use of floating mats!
All snorkel equipment including mask, sterilized snorkel tube/mouthpiece, and flotation vest available!
Charter this boat excursion for a half or a full day, and allow yourself to be pampered by the friendly crew. Great atmosphere, delicious food, drinks, and much more! Enjoy the day cruising Curacao!
Full refund for cancellations 24+ hours in advance.
Activity Level:
Low
Minimum Age:
All Ages
Excursion ID: S6244
Duration: At leisure
Languages: EN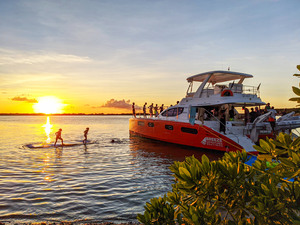 Curacao Sunset Power Catamaran Cruise Excursion

Open bar and snacks included!
Cruise the Spanish Waters and Fuik Bay!
English-speaking certified catamaran shore excursion host and crew!
Marine toilette on board the sunset catamaran boat!
This is the perfect sunset shore excursion to end your day in Curacao. Cruise through the Spanish Waters and head to Fuik Bay to enjoy the sunset with beverages and light snacks. Kick back, relax, and enjoy this beautiful sunset catamaran cruise shore excursion.
Full refund for cancellations 24+ hours in advance.
Activity Level:
Low
Minimum Age:
All Ages
Excursion ID: S6245
Duration: 2 hours 30 min
Languages: EN