1 Curacao Jet Ski and Waverunner Excursions
Curacao Jet Ski and Waverunner Excursions & Jet Ski and Waverunner Cruise Shore Excursions in Curacao - Enjoy our selected list of Jet Ski and Waverunner Excursions in Curacao while in Curacao cruise port by Shore Excursioneer, the leading independent Cruise Shore Excursion Expert Worldwide!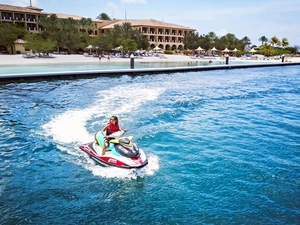 Curacao Guided Jet Ski Excursion Adventure

45 minutes of action-packed Jet Skiing, plus 15 minutes of explanations and a test drive!
All safety instructions and life jackets are included!
Insurance and fuel included!
Enjoy a solo or double jet ski shore excursion ride!
English-speaking Curacao jet ski shore excursion guides!
Open the throttle on this action-packed and scenic jet ski excursion. Add a little speed to your day in Curacao on this guided jet ski excursion exploring Curacao the way it was meant to be seen- from the water!
Full refund for cancellations 24+ hours in advance.
Activity Level:
Moderate
Minimum Age:
12 Years Old
Excursion ID: S6239
Duration: 1 hours
Languages: EN